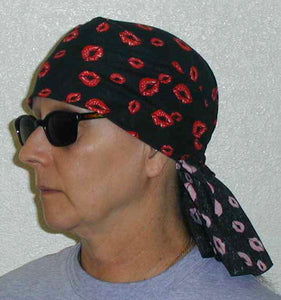 It's more than a bandana! Originally designed for bikers to stay put while in the wind. Often called a do rag or skullcap, the Skulldana head wrap is so much more. It's for everyone. Can be worn for many activities and sports such as motorcycling,  boating, biking, gardening, and on the job just to name a few.  Works great on bad hair days. It can also be used as head wear during chemo.

This Skulldana is prewashed 50% polyester/50% cotton fabric. It is made in the U.S.A. Wash with Cold or Warm Water & Tumble Dry.

FREE SHIPPING in the U.S.A.
THERE ARE A LIMITED NUMBER OF KISS THIS SKULLDANAS AS THE FABRIC IS NO LONGER AVAILABLE. GET THEM BEFORE THEY ARE GONE!