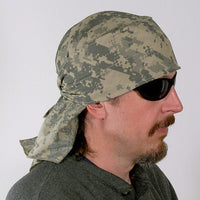 Have you tried tying a bandana into a skullcap, but it won't stay on your head?
Try the SKULLDANA®!
Its unique design provides a slightly stretchy effect. The result is a comfortably fitting head wrap that stays on your head.
SKULLDANA® FEATURES

- Multilayered headband
- Prevents burned scalp, neck, and ears
- Holds glasses in place
- Cools by evaporation when wet
- Prewashed fabric
- Available in many colors and prints
- Stays in place when tied on properly
Shop Now!
How to tie on a skulldana®

Step 1
Place bottom of the headband even with the eyebrow ridge covering the top half of ears.

Step 2
Tie tightly under the base of skull.

Step 3
Gently pull tails snugly against head
Step 4
Customer Reviews
It doesn't matter, whether you're cruising down the mountain highway or rafting a stream The SkullDana Is the best head wrap for all occasions. Perfect protection from the sun, the wind, and the heat.

Russ McCartney
Happy Days!  Opening up my package here in Australia from Cathie this morning was reminiscent of doing exactly the same, fifteen or sixteen years ago! Good to see that some things don't change, and I was still able to order online too.

Love these bandanas...           I'm a welder, and these things simply rock... end of story.Why else would I still be buying after all these years...?

Ian Bee
Have 3 Skulldanas (had 4 gave 1 to a friend) and need to know if you still sell just the bandanas too. I want to order a white Jumbo, but want a white bandana for around my neck (hot in AZ). Let me know. The Skulldana's are the best. Thank You,

Scott Yocum
I just wanted to say "Thank You" for the great service, the quick delivery of your products.  Our family has been using your Skulldana's for quite a few years and we love them.  I love your products, I have 2 that finally wore out thus why I reordered.  Thank you again, have the best day.

A L-H